Enter words below to get started.
What is a startup name generator?
Thousands of businesses mean thousands of great business names that must be created. A creative business name is one of the most important aspects of a business. It defines the business and is the first item that sets the business branding. 
The right business name is more important in a competitive economy where people are not only competing with other similar businesses, but are competing with other options like online ordering, DIY, and staying home. 
There could be problems with picking a name for a startup. It could be taken by another company, already trademarked, or may just be unimaginative. This is when a startup name generator tool is useful. 
Using a startup name generator with a search function is easy. You put in some information and it creates a list of ideas for names for your startup. It can also generate other names that you can incorporate into your branding, such as names for an online store, blogs, and even a domain. 
Using a tool like this helps business owners see which names are available and allows them to claim brandable names quickly.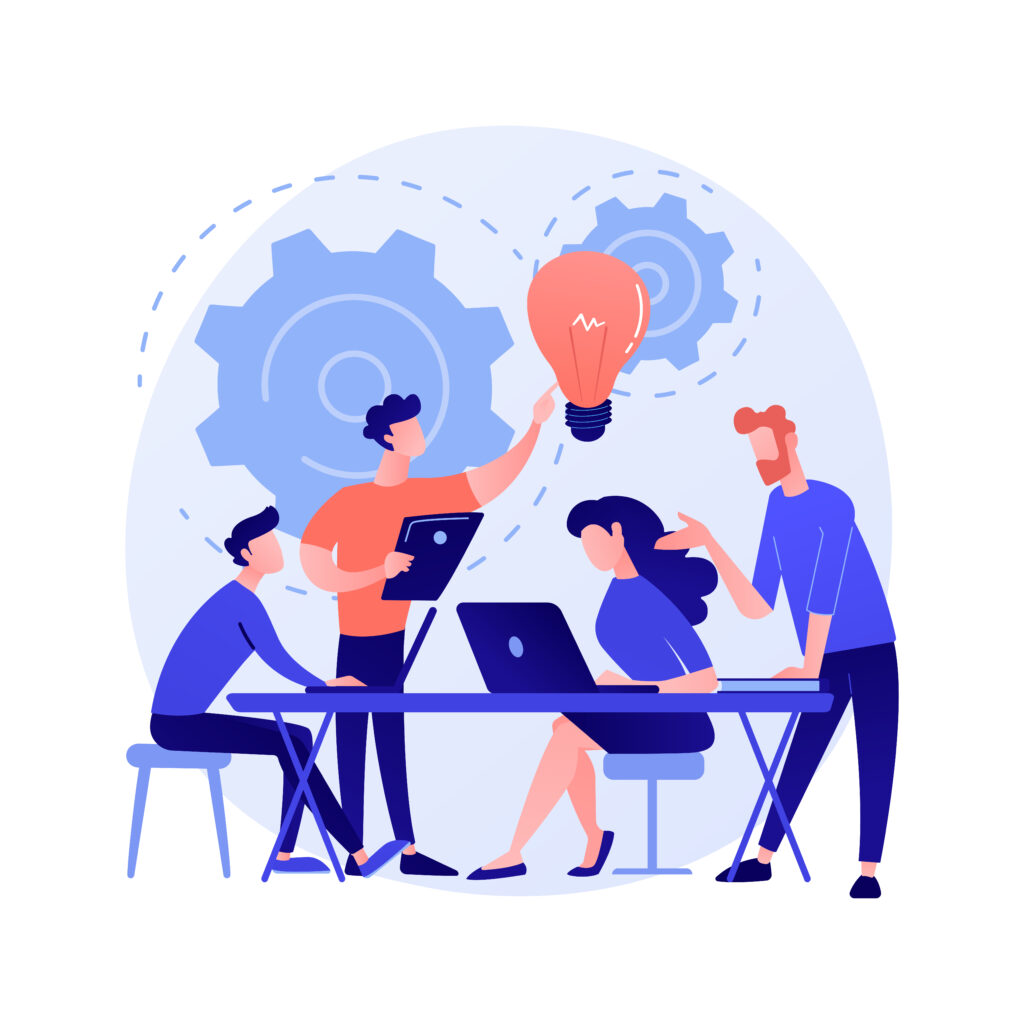 Why use a startup name generator?
How do you decide what name to take?
Some people struggle with selecting a great company name. They want it to represent them but have trouble conveying the right impression for the branding they are seeking. 
A name generator solves many of those problems. There are some questions business owners need to think about before selecting the final name for their startup. 
Does this name probably convey what my business is?

Does the name set a good tone for future branding?

Does the name work with my mission statement and motto?

Does the name work well with SEO optimization?

How close is my name to those of other businesses, especially competitors?

Can my name be trademarked?

Does the name fit easily with a logo that matches my brand?

How will the name work with a domain name?

Will the name be memorable?

Will this name be searchable online?

Is the name already registered under another business at the Secretary of State's office?
Tips for brainstorming startup name ideas
Make sure the name isn't confusing
Many new entrepreneurs try to create a cute name and it only confuses people. A name needs to convey what the business is and what the focus of the business is going to be. It is strange to have a name like Aquadot when the company makes yarn or a name like Cafe Mocha when they only serve tea. 
Ensure your startup's name is easy to spell and pronounce
People won't remember it or talk about your business if they can't say it or have no idea how to properly spell it. It also makes it hard to look up online. Some people want to use a fancy or foreign name to sound sophisticated. Forget it. Keep it simple and short. 
Some names sound good in theory but end up being disasters because of a strange spelling, so be careful with coming on too strong in the creative department. 
The movie "That Thing You Do" about a rising pop band illustrates the point well. The band wanted to be like the Beatles so they thought of spelling their name, the Wonders, similarly distinctive. They came up with Oneders. 
The problem is everyone kept introducing them as the On-ne-ders. The first thing their new manager did was change the name to the Wonders.
Look online to see how words in your name come up on search results. Part of having a great name is how searchable it is. 
Make it memorable
The secret to a great startup name is to have one that people automatically remember. Part of this is in clarity and part of it related to creativity. 
Make sure your proposed name isn't heavily used or trademarked elsewhere
You don't want to pick a name that thousands of others are using across the country. You certainly don't want a name that legally belongs to someone else. 
One way to make sure the name isn't trademarked is to do a Trademark Electronic Search System (TESS) search. This is on the USPTO website under the TESS search page. All you need to do is type in search terms to see the results.
How to register a business name
Registering your startup's name is as important as picking it out. After all, you don't want someone to steal it. Registering it needs to happen quickly because some companies will snatch up names people are looking at to sell them at a high price. 
Entrepreneurs can register their business name in several ways. 
Register it as a trademark
While you can do this yourself, most suggest hiring a trademark attorney to handle the process for you. This way, you are assured no one else has your name. Plus, having an attorney on board will be helpful if you find someone else using your name.
You can trademark your name by applying online or by mail. The US Patent and Trademark Office (USPTO), which processes requests, has a website at uspto.gov with a PDF application that can be either printed out or filled out electronically. Processing of your application begins once you pay the filing fee.
Register it as a domain
You may or may not want the same name for the business and your domain. There is a lot to consider in this decision. Much of that has to do with search engines, your online host, and your online reach. However, if you choose to use the startup name as your domain name also, you can go ahead and buy your domain name to register your startup name.
Register it with the state
Registering your name with the state where you live is the most important part of claiming your name. The state requires a new business to register with it and your startup isn't an official business until it does. Once the state accepts your name as a unique name, it is yours until you dissolve or sell the business. 
To register with the state, go to the Secretary of State website in your state. Most have a link to "corporations." You can register and pay the necessary fees there. It will also let you know if the name is already taken in your state. 
Registering with the state involves a little more than choosing a name. The state asks for the type of business, the names, and addresses of all officers, the business location, and a contact person for the business.
Frequently Asked Questions
How important is my startup name?
The name you choose for your startup company is incredibly important because it will be the name you live with for the life of your business. Sure, you can change it later but then that will require you to change all your business cards, your marketing items, and maybe even your branding. Those who change their names are essentially starting over as people will need to go through the process of identifying with the new name over the old one. 
Another thing to point out is that changing your name could also mean you would have to dissolve the original business and start over with a new name. That means redoing everything from a legal standpoint. This is an avoidable situation if you just put some extra consideration and research into the name at the beginning of the process.
Make sure your name is something you can live with for a long time. It will set the tone for your marketing, branding, reviews, online presence, and everything you do. It needs to be something that not only works for you but is a name you love. It is your business and you need to be committed to it. The effort you put into selecting the name demonstrates that commitment.
How do I use a startup name generator?
Using a startup name generator is easy. Find the search box after you open the generator and start searching using one or several words. Several possible results will pop up. You can select the one you want and buy it. 
How do I choose a startup name generator?
Several startup name generators exist and it can be confusing on which one to use. The easiest answer is to pick one that you feel comfortable using. Look at the reviews for the different generator companies to see what potential customers say about them. 
Branding experts say a key element in picking a startup name generator is to determine how many results you want. A business owner can be overwhelmed with thousands of name options but some generators offer so few that an entrepreneur may feel choices lacking. Try to pick one that has some good middle ground, is easy to use, and has a good reputation. 
Another item to look for in startup name generators is whether it offers other services beyond selecting a name. Some of the better ones offer free logo services with name selection. Others offer complete packages with domain names, product name generators, and website building. 
Being able to do most of your foundational work for your startup on one site is convenient and less stressful because you don't have to search for several companies to do different things and hope they mesh well. One site can provide a much more seamless process to get your startup running.
What if my preferred name is taken?
Those who are a little late to the game and find their perfect startup name is taken will need to start over but maybe not completely over. You may be able to use a word or two from the original name and change out others to create a new name that suits the idea behind your business. Just remember that you don't want it to be too similar to other businesses because that will confuse customers. 
Another possibility is simply to change the spelling to create something new. Under this idea, "Styles for You" can be "Stylz for U." The key point though is to make sure your name isn't so close to a competitor in the same industry that it appears to be copying. This idea works best if the two companies are in different industries.
Can I make changes to a name created by a generator?
You can make some changes to make the name perfect for you. Just type in the name the way you want it and see if it's taken. Remember not to make it overly complicated or too cutesy. Also, remember that changing words can also change the meaning. Read the name out loud to make sure it sounds good before you go with it. 
Another trick is to run the words together like a domain name to make sure it doesn't make a completely different phrase. Sometimes, the result can be an unintended embarrassment. The name "Who Remembers?" looks different when it's run together as a domain name without capitalization.
While it isn't an embarrassment, one national pet store chain became the butt of comedian's jokes because it could be read two ways. Petsmart could be identified as "Pet's Mart" or "Pet Smart." The company finally developed a color scheme and capitalization for their name that identified it the way most people were pronouncing it, which is "PetSmart." 
Are there other name generators out there? 
Yes. There are brand name generators, company name generators, free business name generators, and mobile app name generators. These tools can provide company name ideas in a hassle-free way.
Having a registered startup name and even registering with the state doesn't make you a full-fledged business. Other legalities must occur before you are truly a business. 
After you get your name, you must file for a federal employment identification number (EIN) with the IRS. This is crucial because every vendor, every bank, every credit offer requires this number. It takes around six weeks to obtain if you do it yourself. However, some online companies can do this for you within days for a price. 
You will also need a qualified tax person to set up your business as either an LLC, corporation, or partnership. In many states, this must be done before you register your name with the state. 
Incorporating your business protects it in financial dealings and contracts and puts your startup on a positive footing for taxes, which will eventually come due.
All the tax work and legal applications need to be done before you start thinking about selling items, opening a shop, and even working on your brand. 
Once you know there are no legal hiccups in your startup, you are free to put all your energy into marketing and branding your startup's name.