Business Name Generator.net
Free Business Name
Name Generator
Enter words below to get started.
What is a Business Name Generator?
Building a small business or startup from the ground up is fulfilling; however, one of the first steps in doing this is to select a name. A strong business name is important for digital marketing, brand identity, and communicating the purpose of the business to potential clients and customers. 
If stuck on coming up with a company name, a name generator can lay the groundwork and help brainstorm ideas, especially if the initial name idea is taken.
Name generators typically do the following:
Develop new business name ideas for companies
Check name availability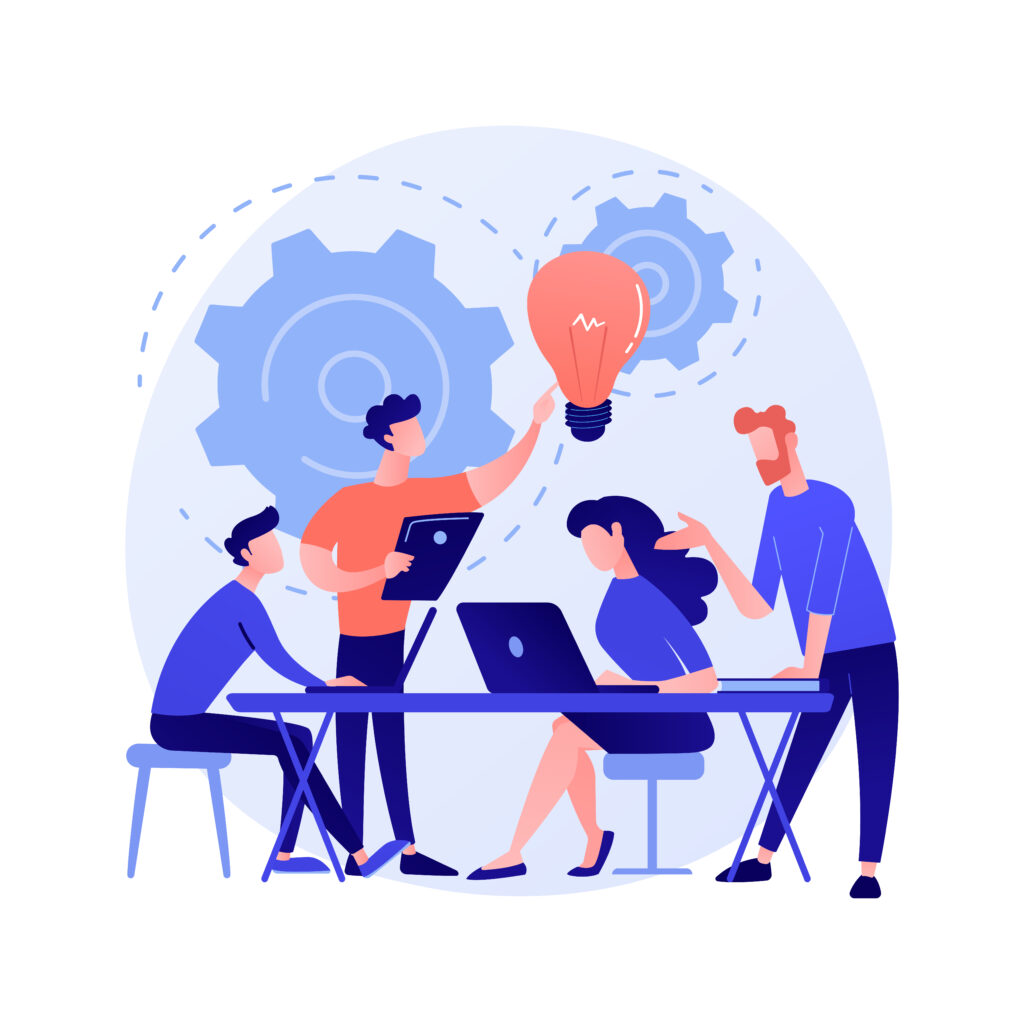 Why Use a Business Name Generator
Businesses need to choose a great name that is going to work well for them in the physical world as well as the online world. Given that so many names have been taken, it may be difficult to stand out from the crowd.
For example, if someone is opening a business selling guitars, then a business name generator can help that company find the right name using "guitar" as the potential keyword.
Examples of some name suggestions:
Above 11 Guitar Shop
Brody's Guitar Shop
Broken Strings Guitar Shop and Repair
Input Jack's Guitar Shop
Questions to ask when brainstorming the perfect name
Is the name going to limit the ability to scale in the future? 
What happens if products and services change down the road?
Is this name too similar to the name of another company that is already doing well in the industry? 
Is the name too long to remember? 
Is the name going to be hard to remember or spell?
Is this name going to work well when transitioning into the e-commerce landscape using Shopify or GoDaddy? 
Is this a catchy name for social media?
Should the name of the business use prefixes, suffixes, or potential synonyms? Or will this be too much of a hassle?
Because a free business name generator is a tool that can be used to create a large pool of potential names, business owners should not have any issues finding a name that will address these common questions.
Tips for Developing a Strong Business Name
There are several steps that business owners need to follow in order to develop a strong business name. 
Do not limit the business to a potential name.
 A successful business is going to grow and expand. Sometimes, the name of a company may limit what it can do down the road. For example, using the guitar example from above, a name with the word "guitar" in it might be a good place to start. On the other hand, if the company expands and begins to sell pianos in the future, this name may not be a good choice anymore. Do not select a name that will limit what the business can do down the road. 
Consider how the name will translate to the online world, particularly as it relates to a search algorithm. 
Some business owners may not be thinking about setting up a website the first day the company is open, but there is a good chance the business will need a strong online presence to be successful. It's important to select a name that will work well online. This means thinking about how the name of the business will translate into an available domain name or URL address. 
Try to select a name that is easy to remember. 
There are plenty of great brand names out there; however, if they are difficult to remember, the company will have a hard time attracting customers. In this scenario, a creative business name that is shorter is always better. There's a delicate balance between finding a unique business name and creating a name that is so long nobody will be able to remember it. Keep the business name short when possible. 
Avoid any intentional misspellings when developing a business name. 
Even though it might seem cute or trendy to create a play on words, people should be able to spell the name of the business properly. If people have a hard time spelling the name of the business, they will have a difficult time finding the company in the physical world as well as the online world. 
Try to avoid using any symbols in the name of the business. 
Symbols are difficult to remember. If the company has dashes, hyphens, or numbers in its name, customers may overlook these symbols, making the company harder to find. Businesses need to do everything they can to increase their visibility. Special symbols made limit this. 
Always make sure the name hasn't been copyrighted or trademarked. 
Otherwise, businesses could find themselves and legal hot water when they are trying to get themselves off the ground. Even if the name is technically available, make sure the name is not too close to any other companies in the industry. If those businesses are well-established, a new business may end up mistakenly directing traffic to an established company because its name is too close to the name of another business. 
Everyone has a different strategy when it comes to developing a name for a company. As long as business owners keep these tips in mind, they should place themselves in a good position to be successful.
Registering a Business Name: Step by Step
There are several steps involved in registering a business name. 
Step 1: Ensure the Business Name is Available and Unique
First, the desired business name has to be available. If there is someone else in the state who is currently using the name, that name will not be available. There are several steps involved in ensuring a business name is available and you need. 
It is typically possible to conduct something called a business name search through the local State's Secretary of State website. If someone tries to register a business name using a name that has already been taken, that filing paperwork will be rejected. 
It is also a good idea to conduct a web domain availability search. The vast majority of businesses have a website to increase their exposure. If the domain name has already been taken according to the domain name availability search, this could be a problem.
Those starting a business will also do a US trademark electronic search. Just because the name is available in the state does not necessarily mean the business name has not been taken by a company in another state. If a trademark has already been filed using that name, it might be a good idea to use a different name. It is critical to conduct a thorough search to make sure the name of the business has not been taken by somebody else. 
Step 2: Determine the Type of Business Name Required
Once a business name has been selected, how is that name going to be used? What is the structure of the business going to be? There are multiple business structures available. Business owners need to think about which structure would work best for their needs.
Some companies decide to form an LLC, which stands for a limited liability company. This is the most straightforward way a business owner can protect his or her personal assets. There are some specific words, such as "attorney" or "bank," that may require additional filing paperwork to reflect professional certifications. 
Other businesses decide to form a corporation. This is another way business owners can protect their personal assets. Those who are naming a corporation must include words such as "corporation," "limited," or "company" in their name. The name also cannot use letters or words that could confuse them with a government entity. 
The simplest business type is called a sole proprietorship. This is an informal structure that does not provide any protection for personal assets. It also does not need to be filed with the local state. On the other hand, this business has to operate using the surname of the owner. In this scenario, the business owner has to file something called DBA paperwork, which stands for "Doing Business As." 
Step 3: Register the Name of the Business
With a strong business name and the right business structure, it is finally time to register the business name. Fortunately, this is a straightforward process. 
Start by writing down the name of the business on the paperwork. Keep the name of the business consistent. 
Select a registered agent. This is usually an individual who has been appointed to receive legal paperwork on behalf of the company. This information has to be included in the paperwork. 
File the "Articles of Organization" or list of directors has to be filed as part of the paperwork. 
File all relevant formation documents with the local Secretary of State 
Get an Employer Identification Number (EIN) through the IRS. This is like a social security number for the business and is what the company will use when it files its taxes. 
Once all of these steps have been completed, the name of the business should be registered through the local Secretary of State. Now, the business may commence its operations.
Frequently Asked Questions
Do you have to pay to name your business? 
Yes. You do have to pay to name your business. This is typically something that takes place when filing the paperwork. For example, you may need to complete DBA filings, file formation documents, and reserve your name ahead of time. Usually, this is done with the Secretary of State or the department business licensing and whatever state you are starting your business in. Expect to pay fees.
Do you have to renew the name of your business? 
This depends on how you first registered the business. If you reserve your name and you do not renew the reservation, the name of your company will become available for just about anyone else to claim. On the other hand, if you decide to dissolve your business willingly, this will also release the name for someone else to use. You should make sure you renew the name of your business so your name does not get taken by somebody else. 
Is there any way you can register the name of your business for free? 
No. There is no way you can register the name of a business for free. Whether you are trying to reserve a business name, file an amendment to the current name of your business, or applying to become an LLC, there are filing fees that you need to pay. The amount of money you need to pay varies from state-to-state. 
Can you start a business without a business name? 
You can certainly start a business without naming your company. In some situations, you may want to figure out what you are selling before you decide what the best name is. On the other hand, you will not be able to register for a business license without having a company name. Think carefully about what you want the name of your business to be. Without a strong business name, potential customers will not be able to find you. 
What is the legal name of a business? 
The legal name of your business is the official company name that is listed on all documents that are filed with the local government. In most situations, you need to register the name of your business with the state. If you need to change the legal name of your business, you can file an amendment using the formation documents of your business.