Enter words below to get started.
What is a Domain Name Generator?
Whether looking for an online name for a new business or simply going through a few brainstorming sessions, a domain name generator is useful. It's important to think carefully about what business name or domain name to use. It's also important to think about things like website visitors, search engine optimization, and brand when developing a name. 
Keep in mind that the perfect domain name could be taken or that the URL might need to be different from the business name. That's where a domain name generator tool (with a domain name search function) can be helpful. 
A domain name generator is as simple as it sounds. It comes up with name ideas for businesses, e-commerce stores, blogs, startups, and more. One with a name check function helps users figure out which domain names are available and ideally offers the option to register it right away.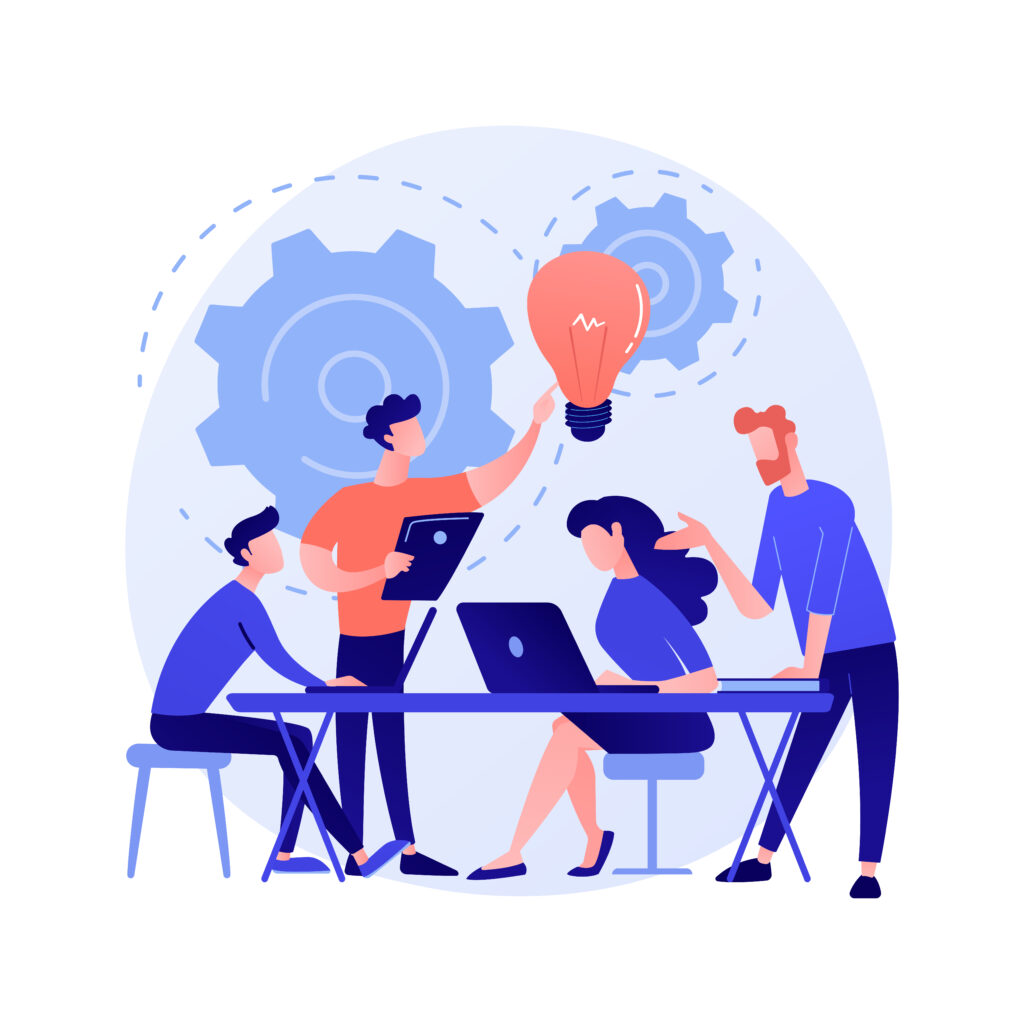 Why Use a Domain Name Generator?
Questions to Ask When Selecting a Domain Name
Should I include prefixes or suffixes in my domain?
How can I check domain availability for various name ideas?
How do I know if the domain given by a business name generator is a good one?
Does the perfect website name have anything to do with my social media account?
How is my name search going to impact a search engine algorithm?
Are those domain name ideas brandable and good for SEO purposes?
Does this new domain have synonyms to another website name in my industry?
Are the available domain names good for my brand name?
How will the different extensions, such as a com domain, impact my eCommerce store?
How do I know what a good online name for an online store or small business is?
Tips for Brainstorming Domain Name Ideas
Try to keep your online name short. The shorter your name is, the easier it is going to be for people to remember. That way, you can attract more visitors to your website. For example, "findagoodorthopedicsurgeonnearme" might be a good online name for a healthcare website, but it is far too long to remember easily.
Make sure that your website is easy to spell. Do not use any cute or colloquial misspellings and your online name. Otherwise, people are not going to remember what you are website address is. For example, "topophthalmologist" might be a good domain name for an eye doctor; however, "ophthalmologist" is famously hard to spell.
Always say the online name out loud. Think about what it is going to sound like when someone says your online name. Does it sound awkward? Do people have a hard time staying it? If someone tells someone else about the website, that other person should be able to find the site easily. For example, "whichsandwhich" might sound clever, but it is hard to say. 
Try to use keywords for SEO purposes. If there are certain keywords that are important to the industry, try to include them in the website address. For example, if the website is about sports, you may want to include a keyboard such as, "football." 
Try to stay away from numbers and symbols, including hyphens. A lot of people do not remember numbers and symbols if they are trying to type in a domain name. Furthermore, there are already enough symbols and website name extensions. Do not want to confuse the audience even more. If users are looking at name availability and reviewing name suggestions, they should find options that stay away from these issues.
Try to make sure that the online name is easy to remember. The easier it is for people to remember the name of the website, the more visitors you are going to attract. Do not create an unnecessary hassle for your visitors.
Always check to see if the name is trademarked. If you steal someone's trademark website, they can legally sue you, sinking your business before it even gets off the ground. Do not let this happen. Always check to make sure that your name does not infringe on a trademark.
How To Register a Business Name and Domain Name
The process of purchasing a domain can be even more challenging. If you are getting ready to generate a domain for your business, you need to make sure that you registered appropriately. That way, nobody else can steal the online name. There are a few options that you have if you want to register your name. 
Use a Hosting Service
One option is to use a hosting service. The website is a series of files. There must be a place to store them. Most people use a hosting service, essentially renting space on another company's server. There are lots of reputable services, such as GoDaddy and BlueHost. All of these services work with the ICANN database, which keeps track of website names.
A lot of these sites have an availability checker. That way, users can make sure their online name is still available.
The hosting service will prompt users to take a look at all of the options they provide. Select the services needed and fill out their forms. 
Once you pay their fee, they will register the online name for you. 
Without a Hosting Service
Users also have the option of registering a domain without the help of a hosting service. The steps to follow include: 
First, check with the internet service provider. Some internet service providers will not allow users to host a website using their own server. They will block the traffic. Check with your ISP first.
If they allow this, you will have to choose a registrar. Users don't have to necessarily find a hosting service. They can simply find a registrar that will help users register the online name. 
Those who are planning on hosting their own website have to have a server. For example, they may want to repurpose an old computer. Or, they can purchase their own server. Think about which of these options will meet the needs the best.
After this, users will have to get something called a static IP address. Users will need to set up an IP address that is going to stay the same. If the IP address changes, people won't be able to find the site. That is why owners need a static IP address. 
Users will also need software to run their server. The most common software program people use to run their server is Apache. 
Once the software is up and running, users need to configure the router and firewall appropriately. Otherwise, the website is not going to function properly. The firewall needs to allow traffic to move through and the router has to correctly forward connections to the website. 
Finally, users need to route the main traffic to their computer and make sure that to take the appropriate security risks. Running your own server poses a security risk because it is easier to hack. Take the appropriate precautions. 
Clearly, it is easier to register an online name if you go through a hosting service. These are the two most common options people use.
Frequently Asked Questions
Why are domain names important? 
Domain names are important because you have to have a live website on the internet. You need a name in order to point people to your website or someone else's. You also need a name that will become the brand address of your website. Of course, your name is also going to distinguish your website from other people's websites. If you want to build a website, you have to have a name. That is why they matter so much. 
How do I use a domain name generator? 
When you open a domain name generator, look for the search box. Then, you can search for one or multiple words at the same time. The generator should provide you with plenty of available results. Then, you can select which name you want, where you want to purchase it, and who you want to host your domain. 
How do I know which domain name generator I should use? 
Some of the most common name generators include Namemesh, Nameboy, and Panabee. Similar to using another product or service, it is a good idea to read a few reviews for various name generators. For example, some name generators may not provide you with enough results. Other name generators May provide you with too many. For example, if you Google "domain name generators," you will probably come up with hundreds of thousands of results. You probably do not want to use a domain name generator that will bury you in so many options. You want to use a name generator that will not only produce results but also help you select the right name for your company. 
What do I do if the domain name I want has already been taken? 
If your preferred domain has already been taken, then you should take advantage of a name generator. A generator should provide you with a lot of available results. Or, you could always try to purchase the name from the person who already has it. If you are trying to get a new business off the ground, this may be an unnecessary expense. You could also try using a thesaurus to help you find a strong domain name for your website.
Is there a way I can easily tweak a possible name to see if it is free? 
You may want to try adding words in front of or behind your preferred domain name. It is less likely these longer online names are taken. Remember that if you go with a longer domain name, it makes it harder to remember. There is a balance between aiming for the right keyword and choosing a website name that is too long. 
How do I choose the right extension? 
Domain extensions are also an important part of your domain name. The vast majority of websites on the internet use a .com domain. Some of the other most common extensions include .org and .edu. You need to think about what your business does. Then, select the right extension. Even though there are other extensions that may have your website name free, you want your website to be easy to remember. If you use an awkward extension, this may make it harder to remember.