Enter words below to get started.
What is a Blog Name Generator?
If you're starting a new blog or online business, you may be at a loss for a good name for your venture, one that will not only describe your business but drawn new readers and customers to your pages. Naming your business or your blog can be hard. That's why a blog name generator can be invaluable. With just a single click, you can set the generator up and get the ideas flowing. 
Just a few of the things our blog name generator can do for you include…
Generate ideas for your blog name. From these choices, you can decide which one will work best for you.
Generate SEO keywords for your blog or business
Get feedback on your blog name ideas from potential customers or those working in your industry
See what domains are available with prices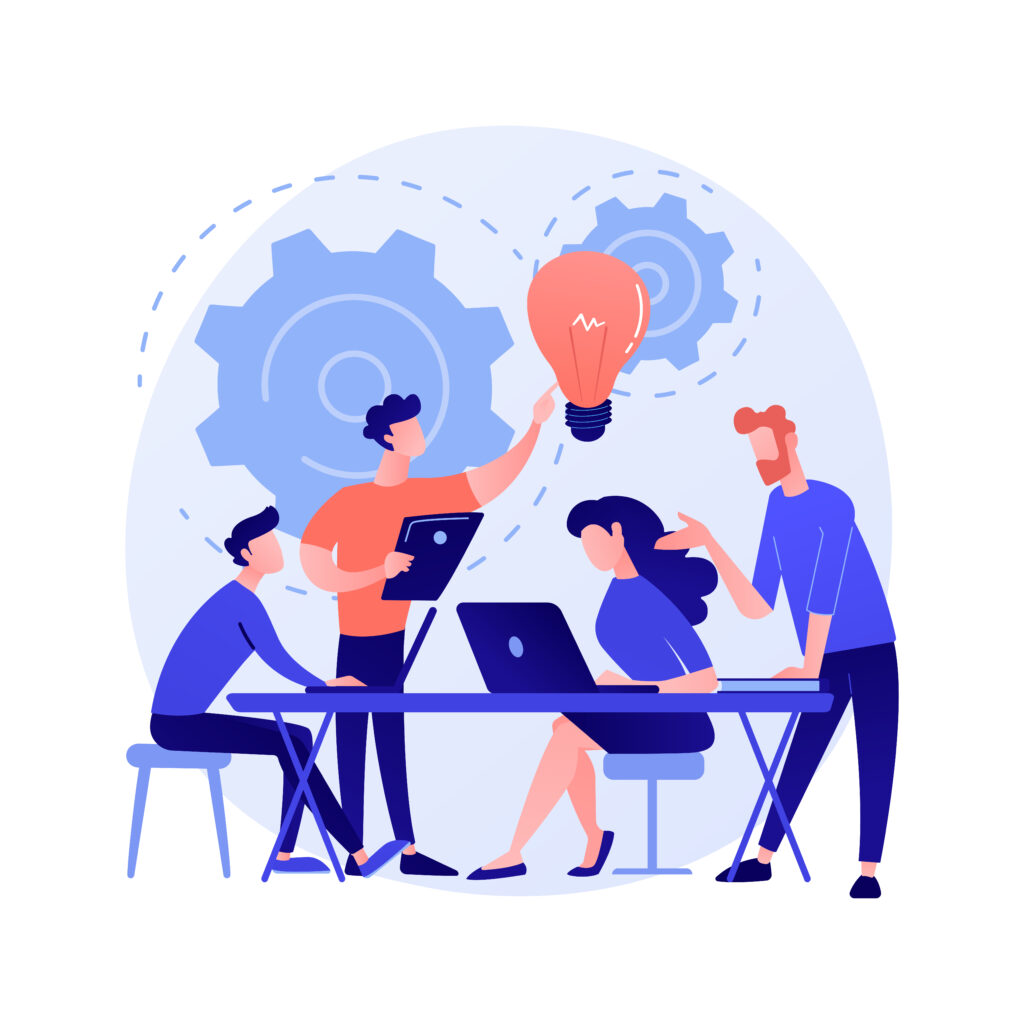 Why Use a Blog Name Generator?
How to use a blog name generator
The beauty of our blog generator is that it's so easy to use. You can go from brainstorming to securing your new domain URL on one screen. Whether your blog is about fashion, travel, food, investing, or technology, the generator will find just the right name.
For those searching for business names, the generator can lead you to the name that best describes your products and services as well as your ideal customers and your vibe. Once you've arrived at a name, you'll see all the available domain extensions with that name, along with their prices. Obviously, some extensions are less expensive than the traditional .com address. Having all the information in one place makes it easy to decide which domain URL is right for you without having to leave the site. You can click right through to register the one you choose.  
The site offers a variety of different business and blog name generators. You simply choose the generator that best matches your needs. For example, there is a …
Craft business name generator
Fashion blog name generator
Catchy name ideas generator
Restaurant name generator
App name generator
Travel blog generator
Brand name generator
Podcast name generator
All you have to do is choose your niche, enter a few keywords and let the generator do the rest. We work with a variety of domain hosts, including Bluehost and GoDaddy. Within minutes, you can start building your blog or business website.
Choosing a blog name
What you call your business or your blog is important. It's the face of your venture to the outside world, and it's difficult to change it if you decide later that you've chosen a name that's less than perfect. Ideally, your blog name should give a hint of your topic as well as your point of view. Is your blog going to be serious or whimsical, creative or scientific? A good blog name adds to your blog's overall brand and intrigues those who see it, making them want to learn more about it.
Which tone matches your vision for your blog?
The great thing about a blog is that you can choose whatever tone you think best suits your personality and your writing style. This could be scholarly or fanciful, or anything in between. The important thing is to be consistent and make sure that your tone matches your name and graphics.
What words would you want your readers to use to describe your blog?
This is another key question to ponder when you are choosing a blog name. Make a list of synonyms that best describe your blog idea. Use a thesaurus to help you. Think of which ones would work about as a brand name as well as a blog name. Use the generator to come up with names that you and your group may not have thought of yet.
Tips for Generating Blog Name Ideas
As we mentioned above, your blog name is the first thing people see of your small business or blog. 
1. Use a blog title that describes your niche and your tone well. 
2. Consider using alliteration. Alliteration is fun and catchy. A blog name with a run of words with the same first letter is also a name that potential readers are likely to remember.
3. Avoid being boring or sounding generic. Obviously, you want your blog name to excite people and make them want to read your posts.
 4. Make sure that your blog name reads well as a URL. When the letters are all together with no spaces, will your blog name still carry your intended meaning? You can see a lot of examples here of unintended blog name failure. Hyphens in your URL can help with readability.
5. Can your name grow with you? Something else to consider is whether your blog name will be as appropriate in 10 years as it is today. What if you decide to venture out of your niche? Will your name be dated by then? Think about topics relating to the COVID-19 pandemic. They (hopefully) will be irrelevant in a few years.
Once you have chosen your blog name, it's time to choose a domain address. We have a domain search generator that can tell you what related domain names are available using your blog name. You'll likely have a choice of a top-level domain (TLD). That's the extension at the end of the address. A dot com domain will likely be the most expensive and the least likely to be available. However, there are more than 1,200 TLDs, most of which are open to the public. If your name isn't available, try using suffixes, prefixes, or hyphens.
When you have your new blog name and your domain, it's time to set up your site and start writing.
First, you need to choose a blogging platform. WordPress is still a good, versatile platform that is good for beginners but also allows you to grow your site. Wix is another versatile platform. Blogger, the Google product, is more basic but has everything you need for a starter blog. Other platforms, such as Squarespace and DirectoryMarker are available as plugins. Using a blogging platform allows you to concentrate on the content of your site and not building and maintaining the mechanics of it, which can be time-consuming.
Your blogging platform will have a variety of templates from which to choose. This affects things like the borders, the basic graphics, and where your text is placed. By using a template, you don't have to be a coding genius or spend money hiring someone who is. Many of the templates are free. Alternately, you can choose to work with a website builder, a site that walks you through the steps necessary to get your blog online and looking sharp. 
Once you have everything designed just right, you publish the blog and start posting. It's a good idea to have at least 10 posts written before you go live so that your blog has sufficient content to interest your first site visitors. Commit to posting at least several times, so there's always fresh content. Search engines will reward you for your efforts.  
Lastly, if you choose to monetize your blog (i.e. make money from ads), you'll want to explore placing Google ads, affiliate ads, or banner ads on your blog. Blogger, since it is a Google product, makes it very easy to monetize your blog using Google ads.
How To Register Your Blog Name: Step-by-Step
It's a very good idea to register your blog name with the US Patent and Trademark Office to protect it against unauthorized use. Your blog name is the core of your blog's branding, and you don't want it to be used on some platform over which you have no control. 
Registering your blog name is relatively easy. 
1. Visit the US Patent and Trademark Office (USPTO) website at ustpo.gov.
2. Search the Trademark Electronic Search System (TESS) to make sure that no one has already registered the name that you want to use. (If they have, you won't be able to register your blog name.) The USPTO only registers unique blog names.
3. Complete the application and submit it with the filing fee. If no match is found, complete the online trademark application and submit it to the US Patent and Trademark Office with the filing fee (currently between $225 and $400). The application process takes about 90 minutes on average.
You'll receive a response to your application within six months. It will likely take a year to get approval. Your trademark lasts for 10 years. At that time, you'll have the option to renew it.
While the procedure sounds easy…and it can be, the search process can get a little confusing, given all the millions of blog names and website names in existence. A good patent and trademark attorney can help you navigate the system. Yes, it adds to the cost, but it can help ensure that your application is accepted.
While there's no deadline for applying for a trademark, it's a good idea to register your brandable blog name as soon as possible, so that someone else doesn't register the same name.
Does a blog need a domain name?
While you can start your blog with WordPress or Blogger without purchasing a domain name, having your own domain is a good idea. With your own domain, you have more control, and you can grow without being tied to a single blog platform. 
Which blogging platform should I choose?
Your choice of blog platform depends on how you want to use your blog and what functions you wish your site to have. Two of the best and most versatile blogging platforms are WordPress and Wix.
Frequently Asked Questions
Does my blog name matter?
Your blog name is the first thing that potential readers see when they first see a mention of your blog. It's also the address they type into their computer to bring up your latest posts. It's likely your handle on Twitter, Facebook, and other social media sites as well as your blog title. In short, your blog name is the essence of your branding.
Can I target an audience related to my blog name?
This is one of the key questions you need to ask yourself when you're choosing a blog name. It's a good idea to brainstorm with a few of your friends and potential readers to see what clicks with them. You may be too invested and too close to the project to be objective about choosing the best blog name.
How do I promote my blog?
There are a variety of ways to promote your blog. You can promote it on your social media pages. You can write guest blog articles on other, related sites. You can (and should) practice good SEO techniques, so that your blog ranks well with search engines like Google and Bing. You can make your posts shareable, so your readers can easily share them on Twitter, Facebook, Instagram, and other similar sites.
Can my blog be my name?
Your blog can be your name if that domain is available. However, is that really the best choice for your blog or your company. Is your own name is well known enough to describe what you are selling or what you're blogging about?
How do I start blogging?
There are a lot of great resources about how to start your blog. Some of our favorites are…
Problogger.com. This website offers a comprehensive set of resources for bloggers of all skill levels.
WordPress guides. The people who created, arguably, the best blogging platform offer a variety of online and print blogging guides.
"How to blog for profit without selling your soul" by Ruth Soukup. This $10 beginners blogging book is a great step-by-step guide.
How do I make a free logo with a good blog name?
You can create your own logo for free at a number of sites, such as Brandcrowd.com and Squarespace.com. You simply enter your blog name into the logo generator box and you'll instantly have several logos from which to choose.
You can also hire a logo designer inexpensively at Fiverr.com.